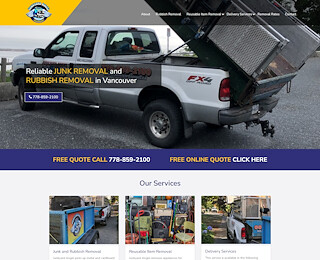 If you need an extra garbage pickup in Vancouver, you need to give Junkyard Angel a call. We are a trusted company dedicated to keeping our environment clean and recycling everything possible.
Why use our rubbish removal services?
We post our prices on our website, and we are happy to check out your debris and give you a quote. For single item removal our rates are as follows:
Refrigerators, couches, box springs, and mattresses all start at $100 apiece. Love seats start at $85. To remove the following items, the price starts at $75:  washers, dryers, and stoves. Television sets and chairs all start at $65. Tires start at $7 apiece. We also pick up paint, car batteries, and propane cylinders.
We price drywall disposal on a case by case basis. Non-stamped drywall requires asbestos testing. For large amounts, the cost will begin at $350 plus the cost of disposal (for example, a full pickup truckload is $350).
For deliveries, we charge a minimum of $150 for two hours of time. For landscaping supplies, please inquire because the extra weight will incur additional costs.
We also carry the following insurances: WorkSafe BC, ICB, and liability coverage on all trucks and equipment.
Why are we passionate about trash removal?
Our company was founded in 1998 by Johannes von Stefenelli. There was a growing concern during that period about garbage pickup in Vancouver. He decided the area needed a responsible junk removal company that was ecologically aware of the surrounding area. Johannes started Junkyard Angels to be that company and has been successful in that endeavor.  That's over twenty years in business taking care of recycling in the Vancouver area.
The vision was to make sure what could be recycled was and what could be passed on and reused was found a new home. Our goal is to redirect as much of the rubbish as possible from our landfills. Recycling and reusing are critical. Metro Vancouver's goal is to increase the recycling rate to 80% by 2020.  We are almost there. 
We feel we are helping work toward that goal. A reputable company will do its very best to make sure your garbage removal in Vancouver is handled correctly. Recycling and repurposing of items is an integral part of helping keep our communities clean and our environment safe for people and wildlife.
Why is it essential to remove garbage and rubbish from your property?
Having junk laying around and piled up creates several different kinds of problems for homeowners. Some items may be toxic and create health problems, including rodent and other pest infestations. Used paint, used motor oil, and other things can create unhealthy conditions on your property. Plus, they are unappealing and lower your property's value.
People used to dig holes and bury their garbage, and that created environmental problems depending on what chemicals and toxins leached into the soil. You must dispose of your trash properly. For garbage pickup in Vancouver, give Junkyard Angel a call and let us help you.